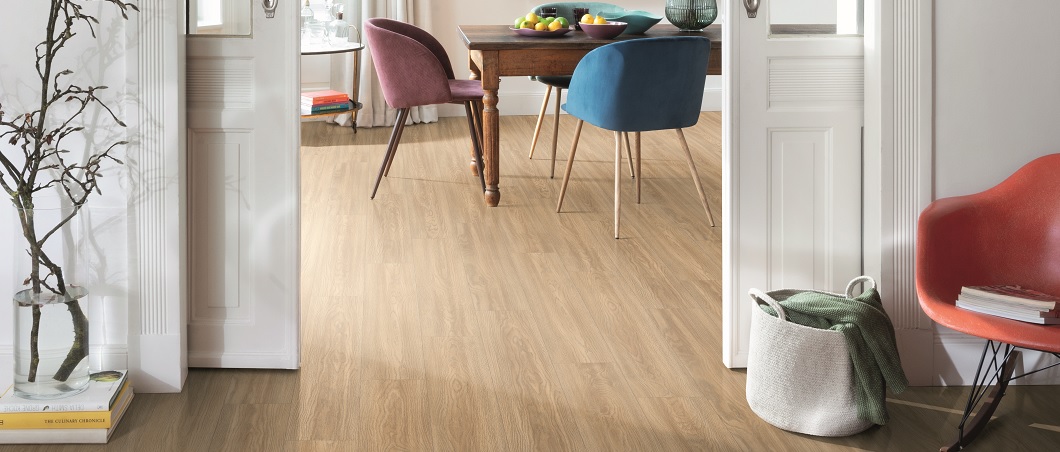 The new, international EGGER PRO Flooring Collection 2021+ has arrived. Stunning decors, realistic textures, and exclusive tools and services provide you with a collection fit for the future.
Have the freedom to design a product portfolio tailored to your needs. Access 177 international decors across three product ranges to provide a solution for both private and commercial customers.
Designed to meet the demands of both private and commercial interiors, the wood-based collection comprises Laminate and Design GreenTec flooring. Each have bespoke benefits that contribute towards a safe, long-lasting, comfortable, yet functional floor.
PRO Laminate is an all-rounder: easy care, hygienic and durable. Available with Aqua+ technology for areas that require water resistance.
PRO Design Flooring GreenTec is robust, water resistant and eco-friendly. It has a class 33 and R10 slip rating so it is suitable for commercial interiors that require a hardwearing floor.
The PRO Flooring Collection 2021+ will use EGGER's new flexible installation system CLIC it!. Featuring a multifunctional profile, the flooring can be installed in three ways: plank-by-plank, row-by-row or tapping. As well as easy installation, the new CLIC it! profile will offer enhanced protection from moisture ingress for up to 72 hours on PRO Design GreenTec and PRO Laminate Aqua+ products, which has been independently verified using the NALFA Surface Swell Test.
Sustainability has been at the heart of EGGER since it was founded in 1961. All floorboards are manufactured using sustainably sourced, PEFC certified wood fibres, from timber harvested from sustainable forests, and are 100% PVC-free with no softeners or toxic dyes.