Postforming is the term used to describe the bending process applied to specially developed grades of laminate. Whilst possessing all the well-known properties of standard grade high pressure laminates, postformable laminates can also be formed into simple cylindrical concave or convex curves.
The postforming of laminates requires the use of a P (Postformable) laminate type. Our standard 0.6mm and 0.8mm laminates as well as our PM laminates are all classified as postformable laminates.
Not postformable
EGGER flammex laminates.
EGGER coloured core laminates.
EGGER HG laminates.
EGGER TopMatt laminates.
Postformable
EGGER Standard laminates.
EGGER PerfectSense Matt laminates.
EGGER Door Size laminates.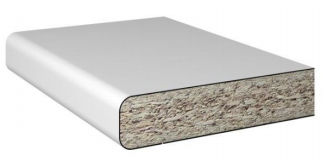 Find out more information here.